Offer Details
Sandisk Cruzer Blade 16 GB Utility Pendrive
Flipkart Offers on Sandisk Cruzer Blade 16 GB Utility Pendrive which is worth Rs.389 for just @ Rs. 335.
FEATURES:
.USB 2.0
.Capacity (GB) 16
.Transfer Speed Read 17.62 MB/sec, Write 4.42 MB/sec
Product Description
Experience a digital storage experience like no other with the Sandisk Cruzer Blade USB Utility Pendrive that is sleek, smart and compact.
Design and Performance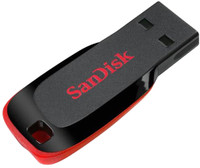 The sleek, feather-light pen drive features a compact design that can be carried around in your computer bag or even your pocket. Featuring a password protect and a USB 2.0 interface, your personal folders are safe from unauthorised access so you don't have to worry about sharing your pen drive with others.
Capacity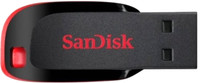 With 16 GB of storage capacity, you can now conveniently transfer all your photos, videos and personal files to other computers with no difficulty. Just drag and drop your files with this pen drive that helps in fast transfer of data with a read speed of 17.62 MB/ sec and a write speed of 4.42 MB/ sec.
How to avail this offer
1. Click here to go to Flipkart.com
2. Add the items of your choice to your cart.
3. Fill your shipping address and continue to pay.
4. No Flipkart coupon code is required for this offer.
5. Proceed to check out and place the order.